The UCD communityproduced over
2000 tonnes
of Municipal SolidWaste in 2018/2019
How can each of us reduce our waste impact in 2020?
The Waste Hierarchy gives guidance on how we can reduce the impact of waste on our environment
We need to focus on how the first 4 out of the 5 R's to really make a difference to our carbon footprint.Recycling our waste is great, however it is still waste!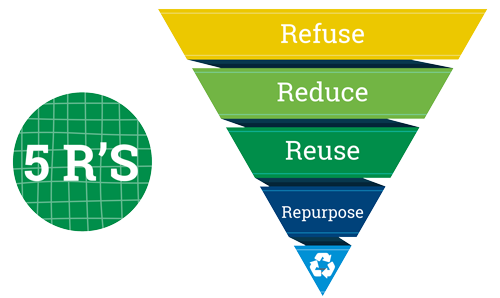 When you've tried everything else, it's time for the final R, Recycle.
This means when something is no longer reusable or repurposed you may be able to recycle it. Checkout this quick survey to learn more about what common mistakes are made when it comes to recycling in Ireland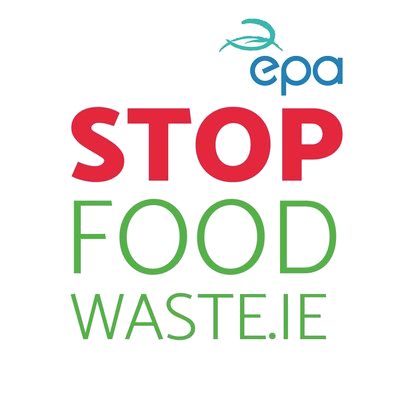 STOP FOOD WASTE
Did you know in Ireland there is over one million tonnes of food waste disposed of each year. By making small changes to how we plan, shop and prepare food we can cut our food waste and save money at the same time.
Zero Waste Cooking demonstration with celebrity chef Adrian Martin
During Green Week in 2019 a Zero Waste Cooking demonstration with celebrity chef Adrian Martin, brought to you by the Environmental Protection Agency, showed us how simple it is to reduce what food we throw away by measuring our portions correctly! (and of course with skills like Chef Adrian's you wouldn't accidentally scald the pot!)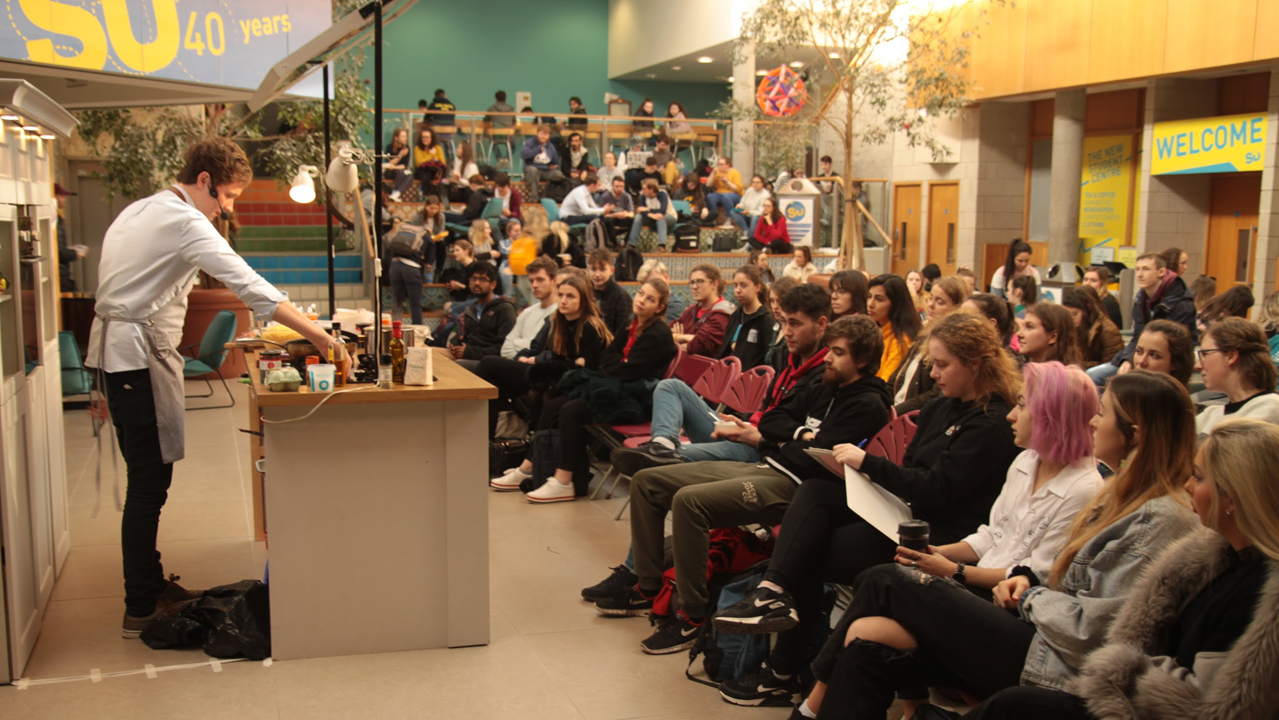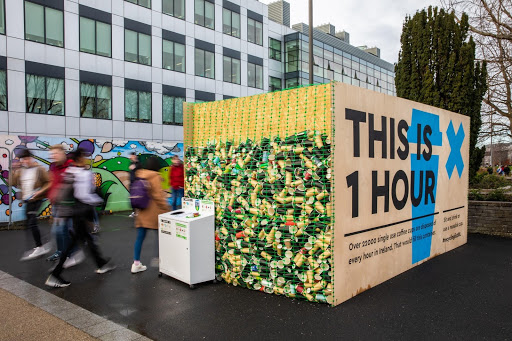 THIS IS ONE HOUR
In Ireland we dispose of 22'000 coffee cups every hour. Instead of buying your takeaway coffee in a disposable cup, invest in a reusable cup in order to cut down on the amount of rubbish that you're producing.
Image from UCD Green Week 2019 collaborative Green Campus project with the School of Education and UCD Estate Services.

UCD CLOTHES SWAP
Have you heard of UCDSU, EcoUCD's Swap Shop? Bringing sustainable fashion to you since Green Week 2019. Next Swap Shop date tbc.. Check here for more info! Rather than buying new every season, think about how you can re-style and repurpose from season to season.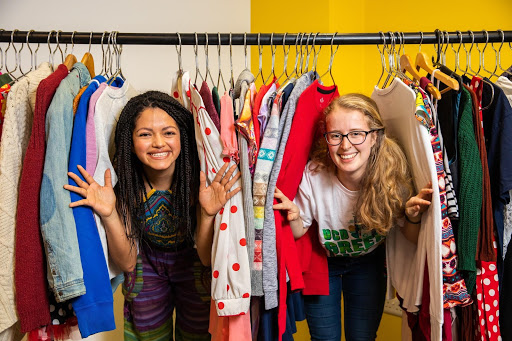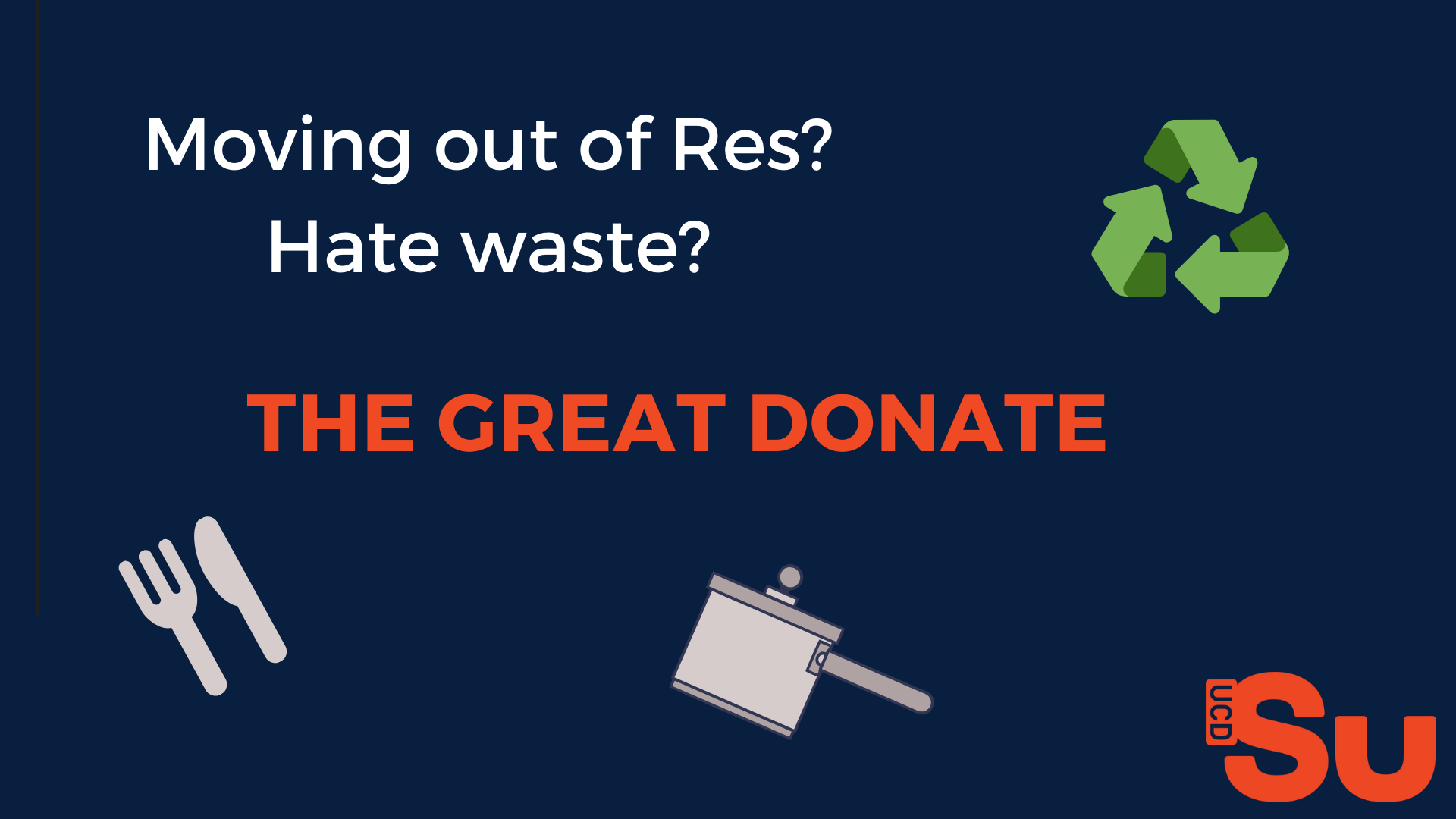 Did you know the Great Donate from EcoUCD, Estate Services and Green Campus helped to prevent 90 crates of kitchen goods from becoming general waste, last semester? In total they saved:- 930 plates- 190 lunch boxes- Hundreds of pots and pans- 1 ukulele
UCD WARP IT
UCD Warp It (Waste Action Reuse Portal) was launched in April 2019, with an online catalogue of office furniture available to UCD staff and to charity/nonprofit organisations in Ireland.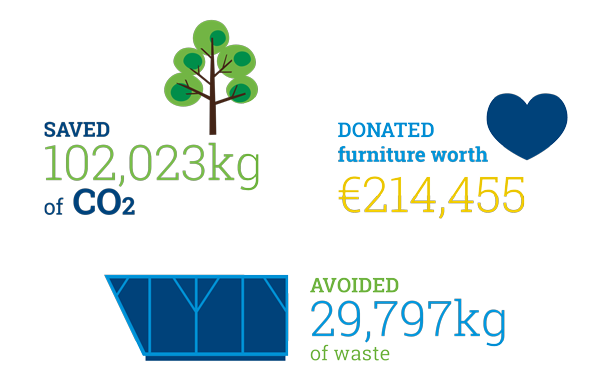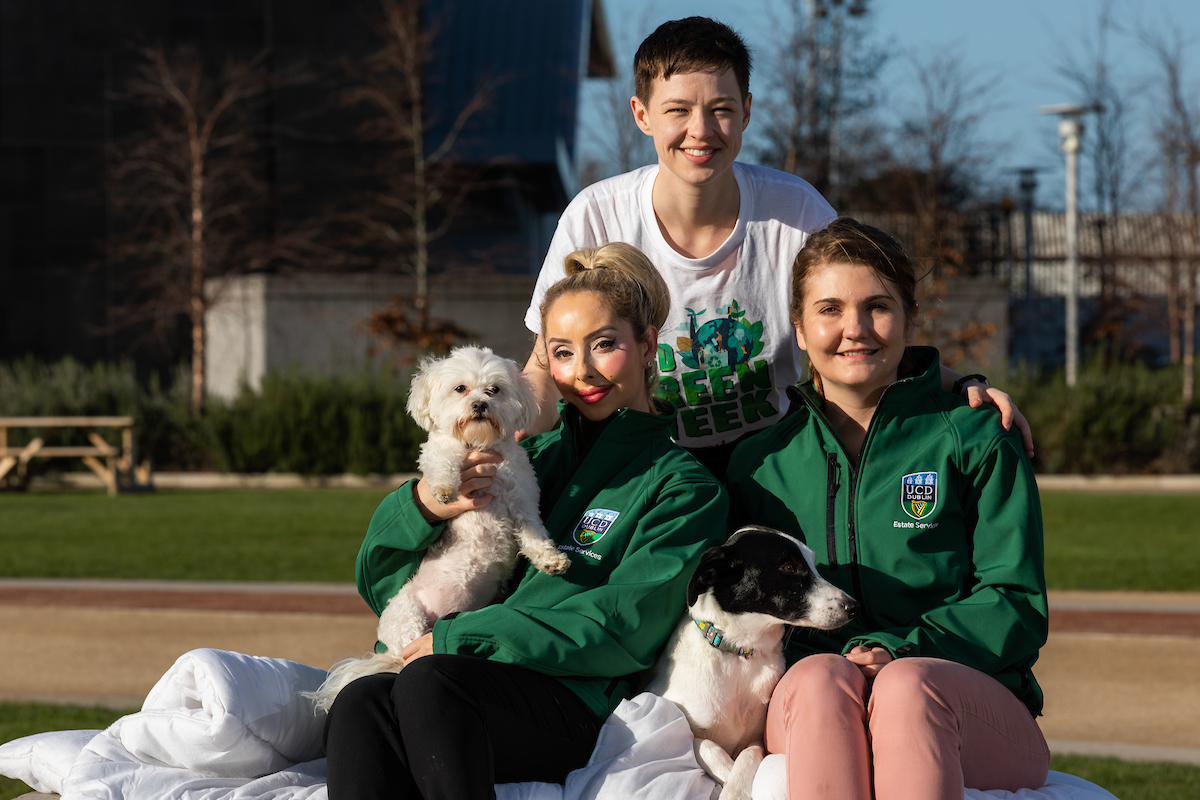 DUVETS FOR DOGS
Duvets for Dogs was set up to collect and reuse duvets that would have been previously thrown out at the end of the year by students living on campus.
To date, over 3,000 duvets have been donated to Dog's Trust and other items such as towels and blankets to Husky Rescue Ireland

THE RICHVIEW RECYCLING PROJECT
Would you be interested in attending a recycling workshop and becoming your office recycling champion in the coming year? Email greencampus@ucd.ie to let us know.
The workshops will be facilitated by environmental NGO Voice Ireland, with vital support being provided by the UCD SPARC Programme and Green Campus.
Reducing the level of contamination in recycling and compost bins requires the cooperation of everyone on campus and so this project seeks to bring students and staff together in tackling the problem.
The timing of the project coincides with the imminent arrival of new segregated bins on the Richview campus.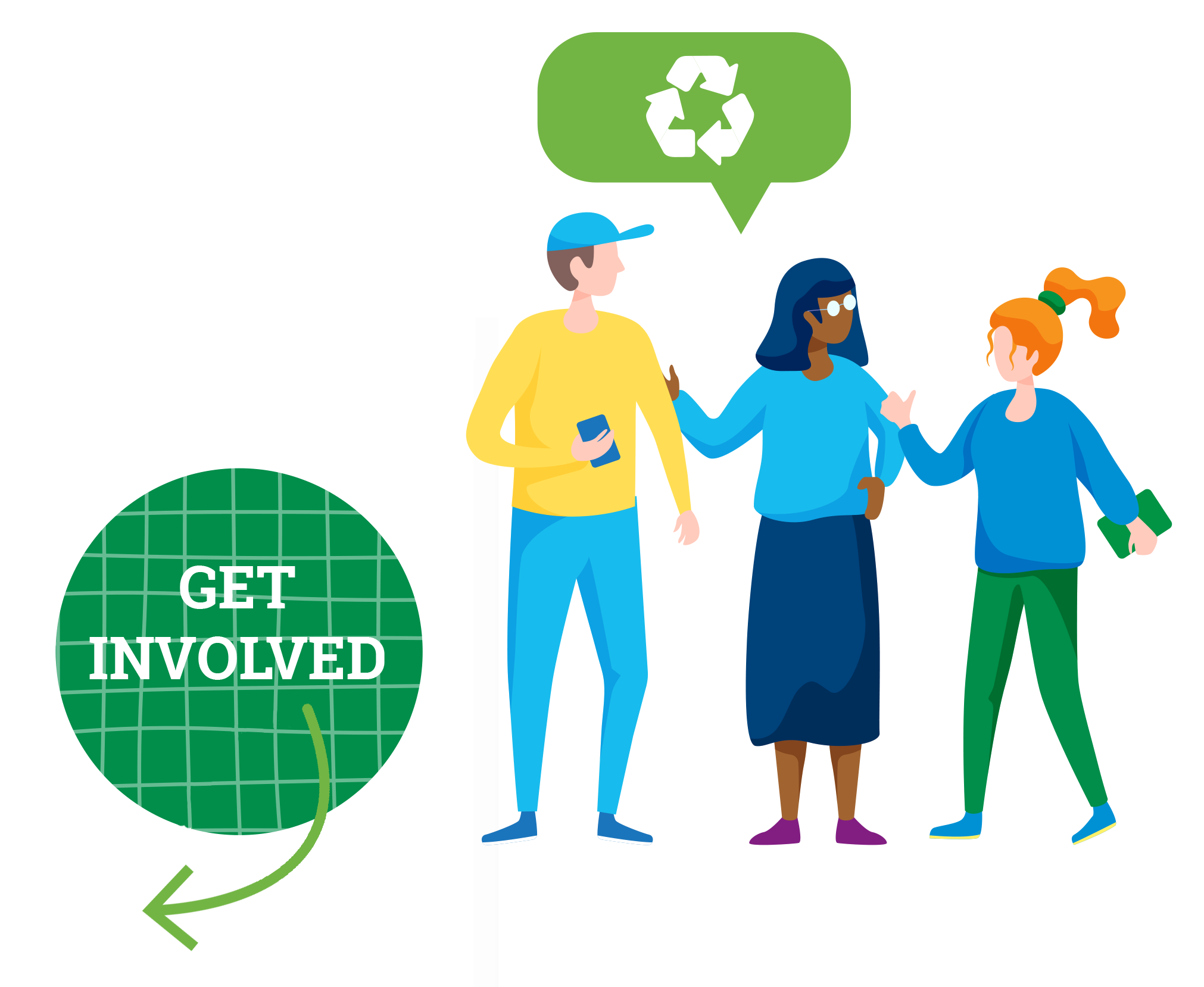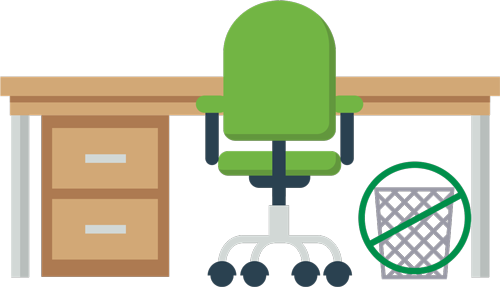 THE BINLESS OFFICE PROJECT
The Binless Office focuses on increased "clean" recycling in the workplace and asks everybody to help achieve this goal.
This new system removes the traditional under-desk office bin for which there is no segregation option.
This project the under-desk bin with dedicated recycling stations in key communal areas. The Binless Office project has been trialed in a number of Offices and Units throughout the University with great success.
We have seen a 52% increase in recycling in these office spaces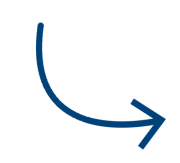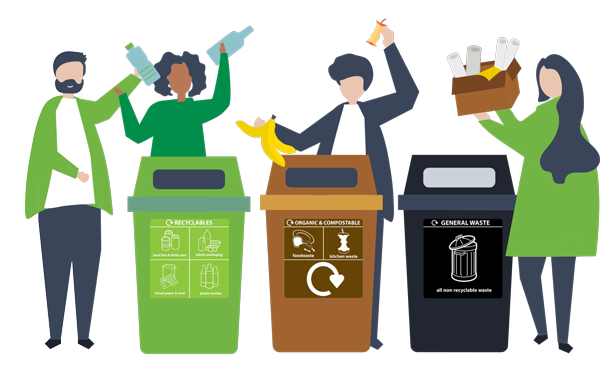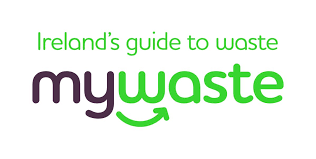 Ireland's official guide to managing your waste. Here you will find everything you need and want to know about managing your waste responsibly, efficiently and in the way that suits you.