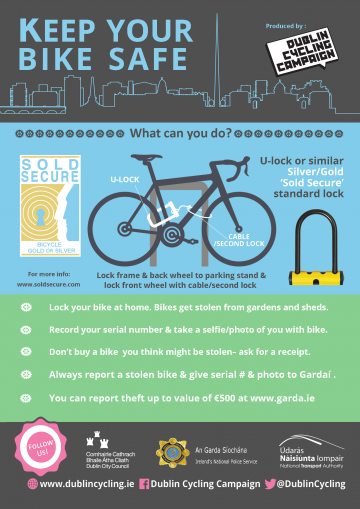 A bicycle is a great way of commuting to and from UCD. Unfortunately every year there are a number of reports of bicycle thefts on campus. In order to eliminate this problem, we are encouraging all users to consider the following steps:
Always lock your bicycle, even if you are just leaving it for a couple of minutes.
Lock your bicycle through the frame to a bicycle stand.
Always secure bicycles to official bicycle stands only, never in front of a fire exit, handrail etc.
Secure removable parts – lock both wheels and the frame together.
Choose a good quality lock. Cable and wire locks are far less effective than a good quality hardened steel U-lock or D-lock. If possible, avoid the use of combination locks.
As a rule of thumb, a lock should cost at least 10% of the value of the bicycle – a cheap ineffectual lock will not deter thieves.
Take a clear, colour photograph of your bicycle and make a written record of its description, including serial number and any other unique features, so that if stolen you can report it accurately.
Register your Bicycle. UCD in conjunction with An Garda Síochána are encouraging all bicycle owners to register their bicycle with a bicycle registration service such as Bike Shepard (www.bikeshepherd.org/). This simple process enables you register your bicycle for free online. A stolen bicycle can then be flagged and has a greater chance of recovery. You can also check to see if a bicycle you are considering purchasing has been reported stolen. For further information visit the Bike Shepard website or the UCD Bike Shop.
By taking these simple steps the risk of bicycle theft can be greatly reduced.
But always, if you see suspicious activity or suspect a bicycle is being stolen please report this to Estate Services on Ext 7000 or 01 7167000.