Recommendations before using AV equipment in shared teaching spaces
AV SUPPORT
Shared Teaching SpaceAV Support
UCD has over 200 centrally supported rooms used for teaching and learning that make up the shared teaching portfolio. These shared teaching spaces are located in almost 30 buildings and across two campuses. Audio-visual (AV) equipment has become an important facilitator of teaching delivery with equipment now found in every room, ranging from laser projectors and control panels in the smaller classrooms to sophisticated solutions consisting of switches, amplifiers and processors in lecture theatres.
For those who are new to teaching in UCD classrooms, we've listed below some suggestions that may be helpful to get to know the AV equipment in the shared teaching portfolio and prepare for teaching delivery. Similarly, these suggestions may be helpful for someone who is teaching in a new room for the first time, or even for someone who hasn't taught in UCD classrooms for a while and wants to refresh their knowledge.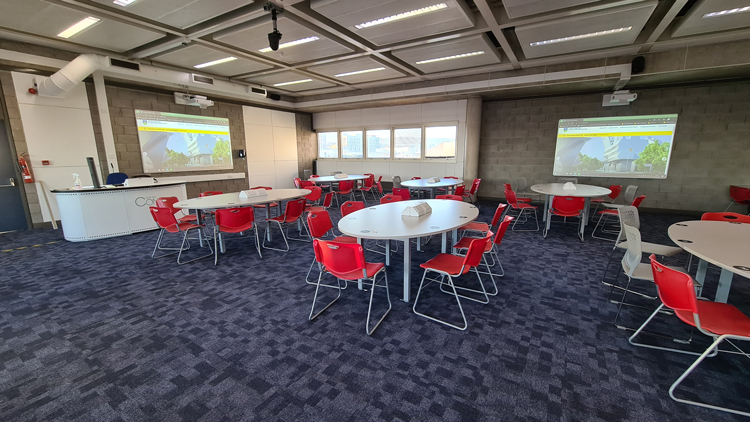 1. Check what equipment is available in the room
When you are informed about the room you have been allocated to teach in, you can check what AV equipment is available in the room. This is particularly important if you wish to use a specific piece of equipment as, for example, many of the smaller classrooms do not contain a document camera. The Estate Services AV Support website lists every shared teaching space and the AV equipment available. If you intend to record your class using lecture capture, you can check which rooms are equipped with lecture capture. If the room does not contain the equipment you require, please let the timetable coordinator or room booking contact know as soon as possible.
2. Review our guidance materials
Our website contains guidance materials on the availability and use of AV equipment in the shared teaching portfolio in the form of an AV Guide and instructional videos. We plan to add more instructional videos soon so check in periodically.
3. Visit the room
Guidance materials are a useful resource however for something like the use of AV equipment, getting some hands-on experience by visiting the room before using it for live teaching for the first time can be very beneficial and is strongly recommended. While AV equipment in rooms is standardised according to room classification – lecture theatre, ALE, classroom, etc., rooms can differ slightly due to factors such as room size, orientation and layout and you may notice something that feeds into your teaching delivery preparations. For those who are new to UCD, checking that you know where the room is located on our large campus can be a useful thing to check in advance!
For those who are happy to do so, you can also try the AV equipment to make sure it suits your needs. There will be some instructions for how to power up and use the equipment displayed on the teaching desk or beside the control panel.
Before you visit the room, you can check if the room is currently in use via Urooms. Urooms is a service in InfoHub providing information to staff about the configuration and planned use of rooms in the University Shared Teaching Room portfolio (UCD Connect login required). At certain points of the year Urooms will be temporarily disabled for academic timetabling purposes. Room availability at these times can be checked by contacting Campus Services at extension 7000 / estates@ucd.ie. For the Blackrock campus contact our Blackrock office at extension 8908 / services.blackrock@ucd.ie
4. Attend an AV Clinic or book a Teaching Support Request
AV Clinics are available in the fortnight and week before the Autumn and Spring Trimesters respectively. Estate Services will advertise a list of rooms through the staff e-zine and other avenues where an AV technician will be available to provide a one-on-one demonstration of the AV equipment in the room. The demonstrations will be conducted in 20-25 minute slots that can be booked through an online calendar. During this time one of our team members will show you how to use the equipment within the room, after which you will be able to try it out for yourself.
Teaching Support Requests are available year round. A Teaching Support Request (TSR) is where you request the assistance of an AV technician at a time and room of your choosing. We always encourage the booking of a TSR at a time outside of the live classroom, as it allows our AV technician time to demonstrate the use of the equipment to you and for you to try it yourself. Another scenario where a TSR is particularly useful for new faculty or staff is at the start of a class to ensure you can power up the AV equipment and commence the class. If you are unsure of the AV equipment before a class just let us know and we'll be happy to help. TSRs can be booked online or via email or phone.
5. Try it out for yourself
If, after undertaking some or all of the steps above, you are still unsure of the AV equipment, consider booking the room for a period during which you can practise. We have found that using the equipment a few times in a no pressure environment builds important muscle-memory. Alternatively, come and speak with us! We are always happy to engage with users of AV equipment and work towards solutions.
6. Engage with other related resources
AV equipment is used at the point of teaching delivery in a classroom and of course there are many other elements to the teaching and learning process. Our colleagues in UCD Teaching & Learning and IT Services provide a range of teaching resources, training and support materials on their websites and we highly recommend you take a look if you haven't already.
We hope the above will prove useful for you and if you have any AV related queries please don't hesitate to get in contact with us.