Firstly we would like to thank you for helping with what was an especially successful Easter Bank Holiday weekend switch-off. As you can see in the graph below, electricity consumption on each day of the Easter weekend was less than the equivalent day in both 2015 and 2016. This highlights the effect that you the users can have on energy consumption on campus.  2020 targets.
Overall weekend consumption was down almost 5% compared to 2016 or 12% compared to 2015! This is a considerable improvement – the reduction between 2015 and 2017 alone equates to the annual electricity consumption of more than 6 Irish households or is the equivalent of taking 4 cars off the road for a year! So as you can see, a concerted effort before a bank holiday weekend can have a very positive environmental effect.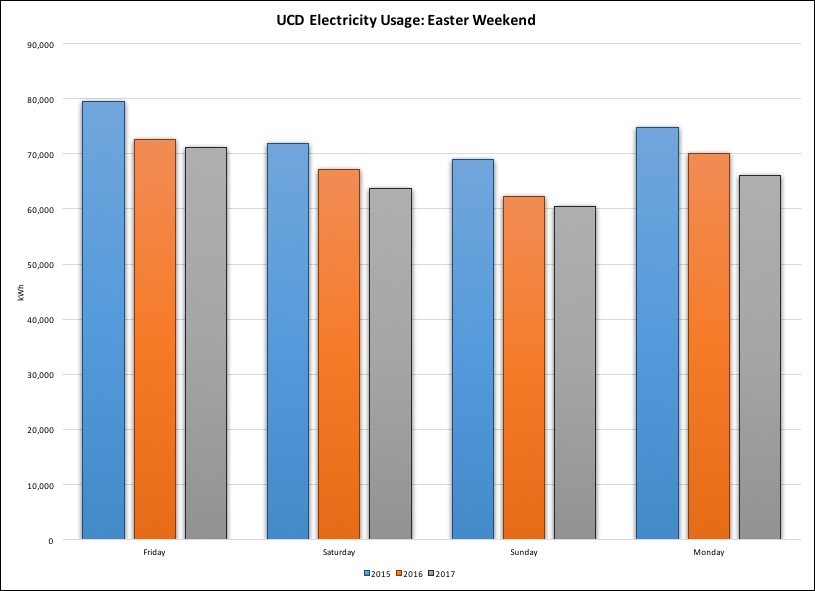 Please switch-off computers, laptops, printers, monitors and screens or non-essential laboratory equipment such as drying ovens and fume-cupboards.    Remember – equipment on standby can still use a lot of electricity, so the best way to ensure equipment isn't using "vampire power" while you're away is to switch off at the socket.
So with another bank holiday weekend upon us we are again for your assistance in the switch-off initiative this weekend.
Enjoy the long weekend.