UCD Estate Services and UCD Green Campus support Dogs Trust donating almost 3,000 duvets and saving 3,920 kilos of waste from landfill since 2016.
Duvets for Dogs is a UCD Green Campus initiative that takes place when there is a turnover of students in the Residences.
Instead of residents disposing of their duvet as they leave campus, Duvets for Dogs allows them the option to donate it to Dogs Trust Ireland.
If you are a UCD resident you may have the following Questions:
What does a donation consist of?
Dogs Trust (shipping containers)
Only clean duvets are accepted.
No rips or tears in the duvet, no stains of any kind.
No duvet cover / bed sheets / pillows – Please remove your duvet cover before placing the duvet into the plastic bag. It cannot be accepted with a cover.
Protect the duvet from getting damp while in storage – roll up the Duvet in a plastic bag.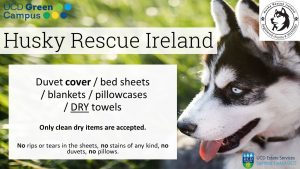 Husky Rescue Ireland (lockable bins)
Place the items into a clear biodegradable bag (available from your RA) to prevent them from getting damp.

Ensure the items are clean and dry, no stains of any kind.

No pillows or duvets.
Why does my donation make a difference?
Your donation creates a circular economy from redirecting something that could be labelled as waste to giving it a second lease of life.
Dogs love soft beds to have a snooze on, providing them a comfy bed is just one step towards making them happy.
When and where is the donation taking place?
Bagged duvets are to be placed into shipping containers in Glenomena and Ashfield Car Parks between the hours of 04.00 to 22.00 from 16th of December until the 23rd of December.
Bagged Husky items can be placed in the Lockable bins in Glenomena and Ashfield located near the shipping containers.
The Great Donate – UCD SU and Estate Services
The Great Donate from EcoUCD, UCDSU, Estate Services and Green Campus helped to prevent 90 crates of kitchen goods from becoming general waste this year. 
Keep an eye on this space for dates and locations for the next collection!
In total they saved:
930 plates
190 lunch boxes
 Hundreds of pots and pans
 1 ukulele
 Rice cookers and Hair Dryers