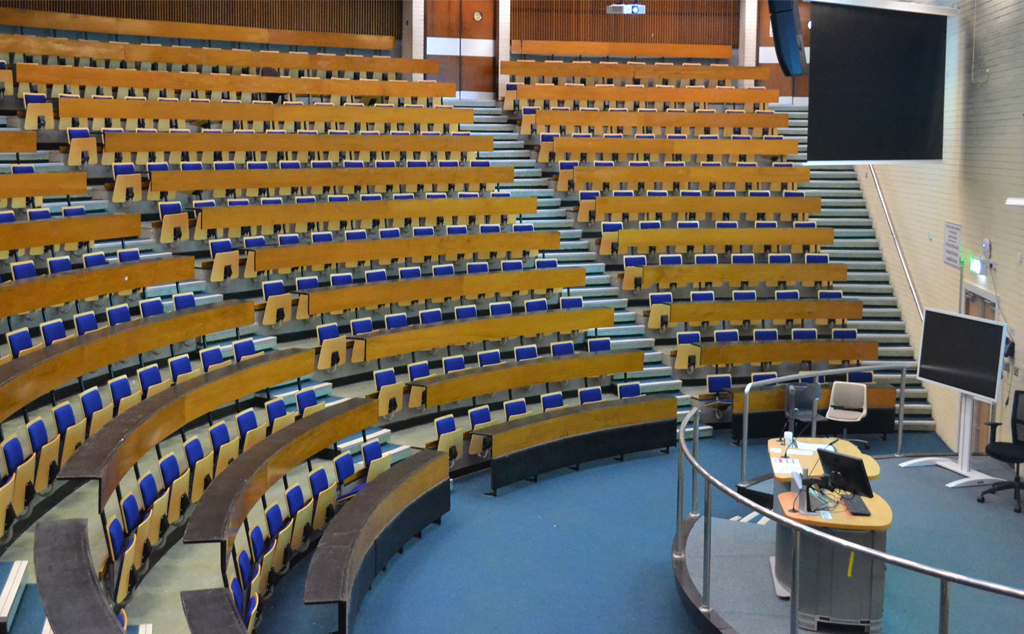 With the Spring Trimester fast approaching, final preparations are ongoing in advance of the commencement of classroom teaching delivery. The Autumn Trimester saw a return to on campus teaching with the increased use of lecture capture solutions to aid those who could not attend in-person classes. AV Clinics held in August 2021 to assist staff to refamiliarise themselves with AV equipment in classrooms were well attended and based on feedback received they have been retained for the Spring Trimester.
Standard AV equipment in shared teaching spaces remains the same and you may be familiar with them already. Additional rooms in the shared teaching portfolio have been equipped with lecture capture facilities in the latter half of the Autumn Trimester and over the Christmas break. As lecture capture facilities are available in almost all lecture theatres, the installations have taken place in classrooms where a laptop is required. These new systems have features such as PTZ cameras which follow your movement across the top of the classroom and soundbars with inbuilt microphones, meaning you will not be confined to a fixed position microphone at the top of the class. You can view a general guide for AV equipment here as well as lecture capture guides for both Lecture Theatres and Classrooms on our website. These explain the step by step process of how to get set up for recording in shared teaching spaces.
These online guides are a useful resource, however an opportunity to use the equipment first hand in advance of the Trimester is recommended if you are, for example, unfamiliar with AV equipment in the shared teaching spaces or teaching in a different room this trimester. With this in mind Estate Services have arranged AV Clinics in some of the lecture theatres and classrooms on campus. The demonstrations will be conducted in 20-25 minute slots whereby a staff member can book in for a one on one session in a selected space with a member from our AV support team. During this time one of our team members will show you how to use the equipment within the room, which will also include use of the lecture capture equipment after which you will be able to try it out for yourself. This service will be conducted over the below dates, you will be able to follow the link beside your chosen building to book your place now.
Lecture Theatre Clinics 10th -14th of  January:
Classroom Clinics 10th – 14th of January:
These demonstrations are aimed at accommodating as many staff members as possible before the start of the trimester. While this might work for some staff members, for others the times may not be suitable or perhaps there is a certain room where they have encountered problems in the past. In this instance you can avail of a more detailed one to one session with a member of our AV support team by booking a Teaching Support Request. This will allow you to select a time and date that suits you in a specific building or room which you will be using during the trimester. These sessions can be booked from Monday to Friday, 8am-4pm*.
If you are teaching in any of the classrooms in the UCD Quinn School of Business or the UCD Moore Centre for Business please contact the Quinn School directly via quinn.reception@ucd and they will send you information on booking an AV demo. These demos will also be held during the week of the 10th – 14th January.
In the meantime, you can make yourself familiar with the shared teaching spaces by going to our website https://ucdestates.ie/av-support/. Here you will find the most up to date information on equipment available within all of the rooms, helpful information on how to use the AV equipment as well as information and videos on how to use lecture capture. If you can't find the information that you are looking for you can reach out to the AV support team via email at estates@ucd.ie or by calling (01) 716 7300.
*Teaching Support Requests are subject to availability. Estate Services will endeavour to support a request on the specified date and time, however this may be impacted during busier periods where there is an increased demand for AV support.