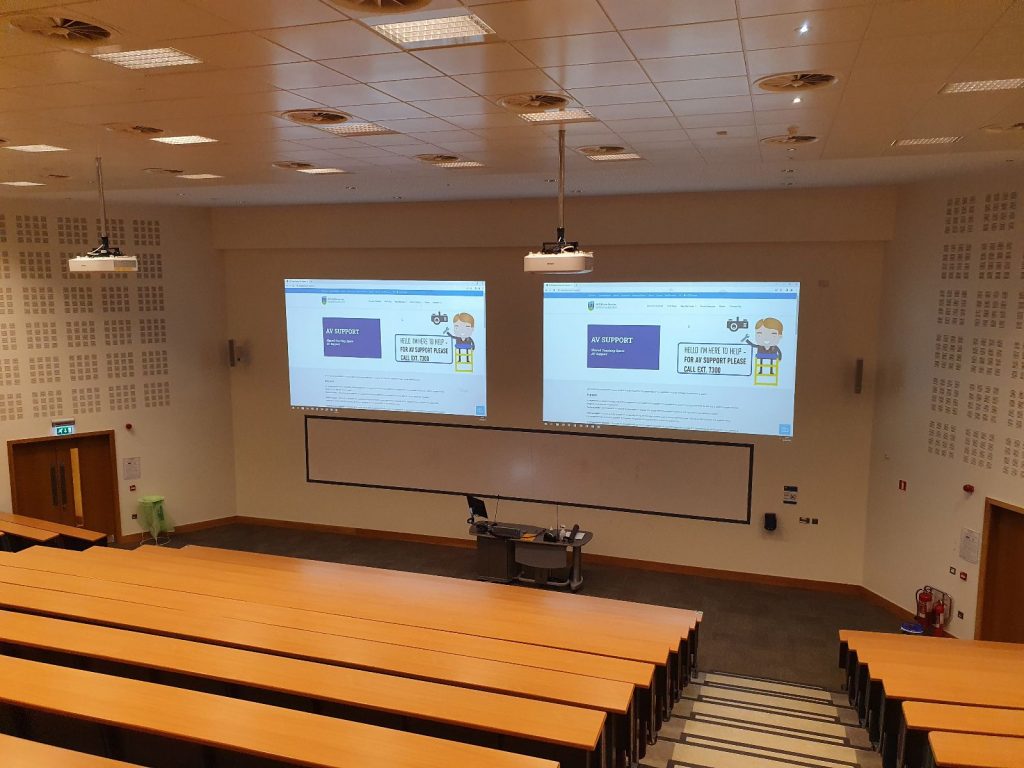 As the Autumn Trimester approaches, Estate Services are again planning to host a series of AV Clinics to support staff to refamiliarise themselves with AV equipment in classrooms.
As in previous years, the demonstrations will be conducted in 20-minute slots when a staff member can book in for a one-on-one session in a selected space with a member from our AV support team. During this time one of our team members will show you how to use the equipment within the room, after which you will be able to try it out for yourself. This service will be conducted over the below dates, you will be able to follow the link beside your chosen building to book your place now.
Lecture Theatre AV Clinics 29th of August-2nd of September:
Classroom AV Clinics 29th of August-2nd of September:
Lecture Theatre AV Clinics 5th-9th of September:
Classroom AV Clinics 5th-9th of September:
You can view a general guide for AV equipment here as well as lecture capture guides for both Lecture Theatres and Classrooms on our website. These explain the step-by-step process of how to get set up for recording in shared teaching spaces.
These online guides are a useful resource, however an opportunity to use the equipment first-hand in advance of the trimester is recommended if you are, for example, unfamiliar with AV equipment in the shared teaching spaces or teaching in a different room this trimester.
If the above dates and times do not suit you, or perhaps there is a certain room in which you would like support in testing the equipment, please book a Teaching Support Request with us. This will allow you to select a time and date that suits you in a specific building or room that you will be using during the trimester. These sessions can be booked from Monday to Friday, 8am-4pm*.
If you have any queries in advance of the Autumn Trimester, please contact us via email at estates@ucd.ie or by calling (01) 716 7300.
UCD Quinn School and UCD Moore Centre for Business:
If you are teaching in any of the classrooms in the UCD Quinn School of Business or the UCD Moore Centre for Business, please contact the Quinn School directly via 
quinn.reception@ucd.ie
 and they will send you information on booking an AV clinic for these rooms. Please note there may be a variation in the AV set up in these classrooms so it is important that you check what is provided in them in advance and attend training if needed.