Towards the attainment of a sustainable, healthy and living campus
Volunteering Opportunities

Are you interested in coordinating projects with Green Campus?
We encourage all students to get involved with UCD Green Campus by becoming Green Campus Project Coordinators or by Volunteering with the project coordinators.
What is a Green Campus Project Coordinator?
An opportunity to create change and make an impact.
If you have a Green Idea you would like to implement on the UCD campus, this may be the role for you!
Simply send us an email outlining your project idea, and we will be in touch.
To find out how to volunteer with the Green Campus Student Coordinator's on their projects or to find out more, please contact greencampus@ucd.ie. and we will help you decide which project you would like to work on. We take on projects under the following 5 key areas:

Send us your project proposals & cover letter here!
WHAT?
The Green Campus initiative aims to encourage students and staff to work together to implement projects and initiatives to raise awareness of environmental issues and improve the environmental performance of their institution. The UCD Green Campus project is focused on delivering projects where students can become actively involved.
We are currently working towards the Green Flag under 5 themes: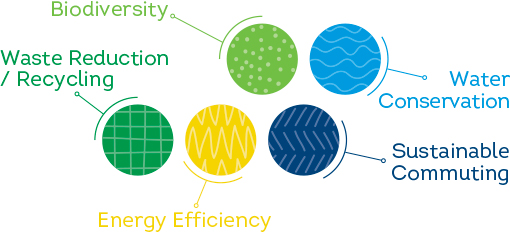 WHY?
Sustainable development and climate change are two of the greatest challenges of our time. We recognise the important role UCD can play as a leader in addressing these global challenges; through research and teaching, the operation and development of the UCD estate as well as through individual and collective behaviour and actions of the UCD Community. The Green Campus Initiative provides an opportunity for interested students and staff to get involved in projects and initiatives that can make a real difference and raise the profile of environmental issues across the University.
HOW?
By successfully following a 7-step programme, participating organisations are awarded the An Taisce "Green Flag". More information on the An Taisce Green Campus initiative and the 7-steps can be found here.
WHO?
It is integral that both staff and students work together for this initiative. The UCD Green Campus initiative is a way for students to get involved in environmental projects and initiatives while studying in UCD. Not only can you make a difference to the environment, it's also a great way to meet people with similar interests, learn new skills and even offers the potential to earn recognition of your co-curricular work through the UCD Advantage Award.
Green Campus Student Coordinators:
This year we have invited interested students to get involved by becoming Green Campus Student Coordinators. This part-time role allows students an opportunity to volunteer to work on and co-ordinate student initiatives in the following 5 key areas:
Energy Efficiency
Water Conservation
Waste Reduction and Recycling
Sustainable Commuting
Biodiversity
To find out how to volunteer with the Green Campus Student Coordinator's on their projects or to find out more, please contact greencampus@ucd.ie.
Biodiversity
Biodiversity is the variety and variability of life on Earth.
We undertake biodiversity projects to promote awareness of environmental issues facing Ireland's Biodiversity
UCD Green Campus - Student Led Project Proposals
Students interested in progressing a project through the UCD Green Campus initiative are invited to submit their proposals. Projects will be assessed by the Chairperson of the Green Campus Committee, Professor Michael Monaghan, in conjunction with UCD Estate Services. Support and funding will be allocated to those projects that best align with the objectives of the Green Campus Programme as set out by An Taisce, as well as with the University's plans, objectives and strategies.
Find Out More
UCD Environmental Review
The UCD Environmental Review -2018 was prepared as part of the An Taisce Green Campus programme and provides an overview of progress to date, outlines environmental targets, will be used to identify areas where improvements can be made and sets a baseline upon which improvement can be measured in each of the thematic areas.
Find Out More
UCD Green Campus Programme
The Green Campus Committee, chaired by Professor Michael Monaghan, VP for Campus Development, aims to be awarded the An Taisce Green Flag, which is awarded to third level institutions that demonstrate a commitment to continual improvement in areas of sustainability and environmental management. The committee formally registered with An Taisce in February 2016 and aims to achieve the Green Flag in the academic year 2019/2020.